Okay, I didn't do a blog post for the 16th week of this pregnancy because Clint was redoing my computer.
Photo taken at 16 weeks: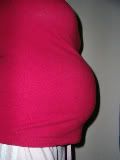 Highlights of this week:
Baby is moving more and I can feel it! I love feeling "her" move.
I've been drinking drinking drinking and having major cravings for orange juice. Well I'm really not even sure if it's a "craving" like I'll die if I don't have it…but it defiantly sounds good more then just for breakfast!
1 week until my next prenatal appointment, who knew there would ever be a time to look forward to going to a medical professionals office? I love seeing a midwife.
::
I have started a registry at Target. I did Wal-Mart with Jack and we didn't get hardly anything off of it. Plus, with Target I can go to our Target and print off my registry, show it to customer service and get a free 20 dollar gift card (the coupon I have expires 8/20, so I have to do it before the obviously. Who can beat a free $20 gift card?
I must confess, I am so ready to know the gender, to start my quilt (after all the baby will be born in December). I really want to start calling this lil one by his or her name…to be able to better introduce Jack to his sibling before they're born.