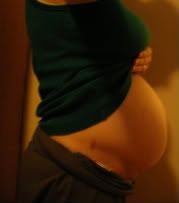 LEFT: 14 weeks pregnant with baby #2
RIGHT: 14 weeks pregnant with Jack.
I am now 15 weeks and HUGE! When people told me that I would show quicker the second time around, they weren't lieing! I am wondering how this will effect the rest of my pregnancy. Will I even out? Will I have the baby earlier then I did Jack (he was born at 40 weeks 1 day)? Is this baby certain to weigh more? Jack weighed 8 lbs 5.4 oz! So many questions!
I am thankful that this pregnancy and the health and well being of the baby and I are in God's hands. I don't know what I'd do without Him. I am planning a VBAC and there is only so much I can control when planning for it. I am incredibly thankful that I have God on my side, He's in control and will take care of us both!